About J.J. Donovan & Sons
J.J. Donovan & Sons has provided reliable, quality heating oil sales and service for nearly 100 years. Family-run for four generations, J.J. Donovan & Sons is rooted in history and built on family.
---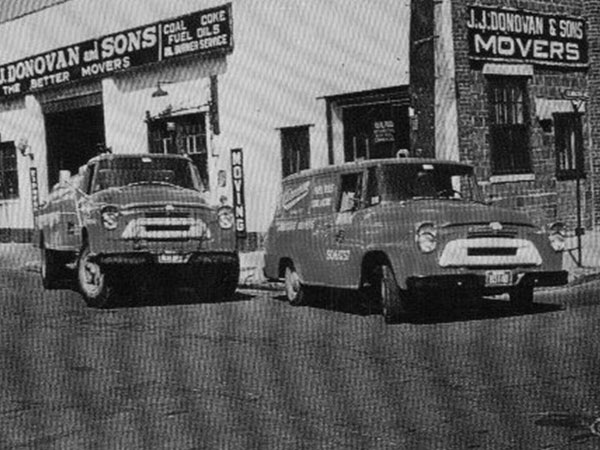 Our Company History
In 1923, Jeremiah Donovan founded J.J. Donovan & Sons in Somerville, Massachusetts. The company provided furniture moving services and storage facilities, as well as the delivery of coal, range oil, and ice. Then, in April of 1940, three of Jeremiah's children—William, Joseph, and Mary—incorporated J.J. Donovan & Sons and continued to build on the company's reputation of providing trusted and reliable moving and home heating services.
As the company continued to grow, so did the careers of the Donovan family. William Donovan was elected Mayor of Somerville in November 1953. In that year, William's younger brother, John "Leo" Donovan, also joined the family business. Leo then later became president upon William's retirement. During the 1960s and 1970s, J.J. Donovan acquired various fuel companies and a fuel distribution terminal in Medford, MA, where the business is still located today.
In 1987, Leo Donovan retired and William's son, Jeremiah "Jerry" Donovan, took over as president. Throughout the following decade, Jerry's sons Michael, Steven, and Jeffrey all joined the company. In 2004, following the death of their father, the three sons took over the management of the company.
Today, the family tradition continues. The J.J. Donovan & Sons family remains committed to providing professional, expert home comfort services to the surrounding Medford, Massachusetts, communities.
Our Commitment to Professional & Reliable Service
J.J. Donovan & Sons has been providing reliable oil delivery and oil heating services to residents and businesses in Middlesex and Essex counties since 1923. We're proud of our reputation as a dependable home comfort service company, and we've seen our business grow continuously over the years due largely in part to word-of-mouth from happy customers.
Ready to schedule a fuel delivery or oil heating service with us? Visit our contact page or simply give us a call at (781) 395-7300 to get started!